Do More with Data: Benefits of Nonprofit Management Software
December 15, 2021 by Eddie Blazer
From sourcing dedicated donors to locating reliable volunteers, cultural nonprofits face a unique set of needs and challenges.
If you're using manual systems like spreadsheets and paper – which aren't designed to support modern demands – you might struggle with meeting your fundraising goals, achieving consistent growth, and maintaining the innovation you need to thrive during uncertain times. Or, maybe you're using outdated software that simply doesn't grow and improve at the pace you need.
The good news is that choosing innovative, scalable tools – like nonprofit management software – can help cultural organizations like museums, zoos, and performing arts centers thrive, both now and in the future.
What is Nonprofit Management Software?
Nonprofit management software provides an efficient way to track and organize your most important areas of operation in order to reach your goals. Also known as a nonprofit CRM, these software tools help with key drivers of growth, including volunteer management, fundraising, and more.
If you're seeking this kind of tool, here's what functionality to look for (plus which one we like best).

Constituent Management
Relationships are at the core of every nonprofit's success. That's why nonprofit software must support constituent management, which provides the data insights you need to effectively target volunteers, donors, foundations, and other community members – with the right messaging, at the right time.
Nonprofit software with constituent management capabilities can help you:
Understand how each constituent engages with your organization (i.e. member, donor, ticket purchaser, program participant, etc.)
Track the relationships between constituents, such as spouses and friends
Keep tabs on the other organizations and interests your constituents support
See how they've responded to different touchpoints, like phone and email
With a complete view of everyone your organization works with, you can create segments based on behaviors and interests. Since nonprofit resources are already stretched thin, constituent management ensures that your marketing, re-engagement, and upsell efforts are efficient and fruitful.
Volunteer management
Volunteers are the lifeblood of your organization, but it can be a hassle to keep everyone's assignments organized. Look for tools that allow you to see who your volunteers are, how they want to help, and how much time they've invested in supporting your organization.
Nonprofit software makes it possible to create, manage, and assign tasks across your organization. You can also send out calls for volunteers when you're in need, and facilitate registration to get people signed up with ease.
Most importantly, it allows you to turn passionate volunteers into dedicated donors.

Fundraising
Fundraising is so vital to a nonprofit's success that it can be a great source of daily stress. Fortunately, nonprofit software can take the headache out of raising money through three main capabilities:
Gift management. Track all incoming pledges, donations, and grants including who they're coming from and how often they occur, in an organized donor database
Targeted messaging. Identify donors at varying giving levels so you can target them with communications that increase their annual giving rate.
Organize and allocate. Keep track of incoming donations and manage resources, scholarships, and other funds so that gifts can be given with purpose.
The result? Stronger fundraising efforts with tangible results you can see.
Campaign Management
Do you have a five-year campaign? Are you planning strategic initiatives? Campaigns are at the heart of creating awareness around your nonprofit, and meeting important fundraising goals. However, keeping track of each sub-campaign and its goal can feel overwhelming.
Nonprofit software tools with campaign management capabilities can help you:
Manage multiple touchpoints by integrating with your preferred marketing tool
Assess campaign success to tailor messaging
Stay organized across every campaign and sub-campaign
The best part about streamlining campaigns is that it's easier to exceed your goals. With more detailed insights into who's donating what, you can better target high-level donors for major funds, segment your campaign across different interests, and determine which marketing tactics are most effective.
Events
Whether it's a gala, paddle raise, auction, or in-house cocktail hour, events help engage the community in supporting your nonprofit's mission.
Nonprofit management software tools promote event success by helping you:
Manage communication with registered guests before and after the event
Track behavior, purchases, and donations of event attendees
Retarget event attendees with new opportunities and events
These insights are essential not only for boosting event attendance, but for gaining a more detailed understanding regarding where your event succeeded – and how it can be improved.
See how Harlem Stage leveraged Salesforce's nonprofit management tool,
read our exclusive customer story.

Mission Delivery
Program Management
Nonprofit programs are a crucial way to translate your mission into real-world action while connecting with the greater community. But programming can look different for each nonprofit; the best solutions are flexible and customizable so you can deliver a personalized experience. Analytics should give you the insights to better manage, measure, and scale your programs.
For example, a museum that offers summer camps and classes can use their software tool to track capacity, participants, and personalize communications and reminders. Taking it a step further, the museum could use nonprofit software to manage details about each camp which drive online registration and availability.
This is key to assessing the direct impact of your programs – all while fostering a better understanding of who's involved in the cause.
Fund Disbursement
The greatest benefit of fund disbursement is that it helps your organization have greater insight over where your funding goes. A good nonprofit software tool should streamline the lifecycle of funding requests and improve the process of tracking, managing, and delivering funding to recipients. Not only that, but it enables you to provide donors with detailed insights into where their donation went, and who it helped.
For example, let's say a donor contributes money to a scholarship fund for your museum's summer camp. Nonprofit software can help you track the distribution of funds toward the student who applied – which helps you better report back to donors and keep them engaged over time.
Ticket Sales
Wondering how many tickets you've sold and how to boost sales in the future? Nonprofit management software should easily integrate with your preferred ticketing platform, offering you the detailed ticketing data you need to:
Learn more about customer preferences so you can promote upcoming events they might be interested in
Assess your best-ranking shows and exhibits (and see who prefers them)
Track campaign ROI, tying ticket sales back to the marketing event that triggered the purchase
Lastly, this data allows you to assess key trends across ticketing, membership, and donations, bringing you closer to understanding what events work best – and why.
What are the Benefits of Salesforce for Nonprofits?
There are many nonprofit software tools available on the market today. So how do you know which one's right for you?
At Foglight Solutions, we're dedicated to helping cultural organizations reach their goals with Salesforce's Nonprofit Cloud.
While many donor management software tools offer similar functions for nonprofits, the following three benefits put Salesforce head and shoulders above the rest.
Innovation
You can only innovate as fast as your software does. That's why we love Salesforce – a user-friendly, forward-thinking tool that releases new features and functionality at least three times per year. It is always evolving with purpose-built features that cater to nonprofits' greatest needs, helping you get more value from your investment. Other nonprofit software tools aren't innovating at this rate, meaning they limit their customers' adaptability in a fast-moving world.
Security
Can you trust that your nonprofit CRM can meet the changing demands of your organization? Are you confident that your system is the most secure option available on the market today? With no data breaches in history and an advanced cloud ecosystem with world-class security features, you can trust Salesforce to be there for you, even as your needs change.
Customization
At Foglight, our Salesforce solution for cultural nonprofits focuses on streamlining work and promoting efficiency. This is accomplished through the implementation of features you need to make the most impact – without any extra fluff. Customization also maximizes the value of your investment by promoting total cost of ownership and ensuring you always have access to the tools and apps that will support you as you change and grow.
How do Nonprofits Use Salesforce?
It's clear that Salesforce has a lot to offer to cultural nonprofits, but how are these actually used in the real world?
Harlem Stage is a world-renowned theater that was struggling to streamline their management software and put data to work for them – especially when it came to tracking funds. With Foglight's Salesforce-based solution, Harlem Stage quickly transformed into an agile, data-driven organization.
To learn more about how Harlem Stage powered innovation and achieved their growth goals with Foglight's implementation services, read our exclusive case study.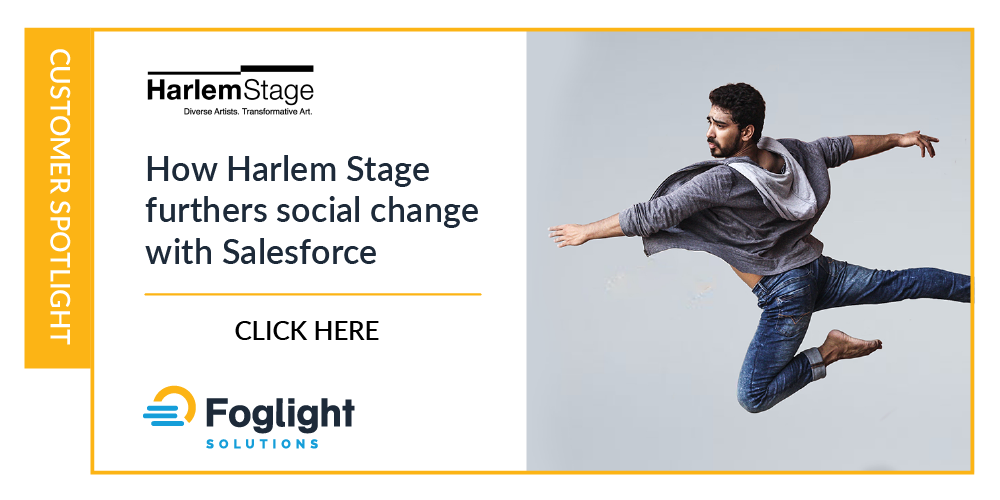 Simplify with Salesforce
There are few things more frustrating than adopting a software tool that makes things more complicated than they were before.
Put your confidence in Salesforce, a solution that's proven to help nonprofits across key areas like constituent and donor management, programs, fund disbursement, and so much more. Review our free customer story to see our tool in action, or contact us to find out how our solution can help you streamline and simplify your daily operations.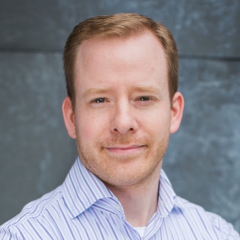 ABOUT THE AUTHOR
Eddie Blazer | Partner
Eddie Blazer is founder and President of Foglight Solutions. He's passionate about delivering high value business solutions to help clients develop deeper connections with their customers.