Today We Celebrate our Third Business Anniversary | Foglight Solutions
March 17, 2020 by Eddie Blazer
Today marks Foglight Solutions' third anniversary, and while the globe's current events are consuming much of our focus, we'd still like to share a heartfelt 'thank you' to our wonderful clients and partners. We've enjoyed getting to know you and collaborating to address some of your biggest business and technology challenges. Thank you for trusting Foglight Solutions to serve your Salesforce needs.
Reflecting on the last 3 years I can't help but focus on one of our organizational values: "Impact". To us, Impact is ensuring our solutions achieve a high value outcome for our clients. Impact defines the purpose for what we do and is one of the core KPI's we measure. Over the last 3 years, we've seen our solutions positively impact our clients' growth and capabilities, reduce operational friction, and create deeper relationships with their customers.
I've also watched this value at work within our company. I've learned, with enough time and persistence, anyone can become a Salesforce expert, but expertise alone does not deliver impact. It also takes a disciplined project methodology managed and executed by an impactful team. Having a culture of impact means we're challenging and inspiring each other to grow professionally and personally. Over the last 3 years, I've been challenged as a leader and am incredibly proud of the impact we've had on each other and the joy it has brought us. I wish to thank our amazing team; your dedication to each other and our clients is incredible.
Turning our attention to the future…while we have the expertise, experience, and execution chops to do anything on the Salesforce platform (you name it, we've probably done it!), just because we can, doesn't mean we should. So we've decided to refocus our identity on the projects that have had the most impact on us over the last 3 years: Salesforce CPQ & Billing, Nonprofit Cloud, and AppExchange IP development (yours and ours). CPQ will be our core focus, but helping nonprofits achieve their mission and developing new products resonate and challenge us in ways CPQ can't. So we'll continue to pursue these projects as they come.
When we started Foglight Solutions, we set out to build a personal company that enables everyone to feel meaning and value in what we do. I'm proud of what we've accomplished here and as we look to the upcoming year, I'm excited for the impact our growth will have on each of us as individuals.
On behalf of our Foglight Solutions team, thank you again. We look forward to partnering in providing you high-impact solutions.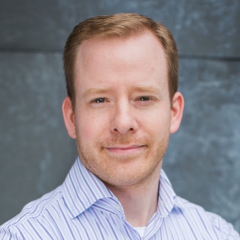 ABOUT THE AUTHOR
Eddie Blazer | Partner
Eddie Blazer is founder and President of Foglight Solutions. He's passionate about delivering high value business solutions to help clients develop deeper connections with their customers.